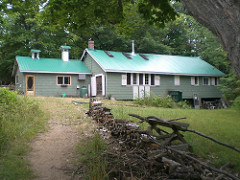 Camp NeeKauNis is a Quaker camp, located on traditional Wendat (Huron) and Anshinaabeg land, on the shore of Sturgeon Bay, (off Georgian Bay) near Waubaushene, Ontario, 130 km. (about an hour and a half to two hours by car) north of Toronto. Programs for people of all ages offer an experience of caring and sharing in the spirit of Quakerism, in worship, play, work, and reflection. We welcome both children and adults as campers, either on their own or together. Camp can be a joyous and rejuvenating time for an adult, and an experience a child will treasure for life.
The facilities and programs at Camp NeeKauNis are the result of the volunteer efforts and contributions of F/friends over more than seven decades. Programs for families, children, young adults and mixed groups are offered in a series of camps which provide opportunities for relaxation, recreation and spiritual growth. Each camp is staffed by volunteers and paid lifeguards.
Daily worship, shared meals (and meal preparation and cleanup!), waterfront sessions of swimming and boating, games, quiet and creative activities take place in a rustic setting where campers participate and share in an inclusive and caring community.
The ongoing care and operation of the camp is under the direction of a committee of Canadian Yearly Meeting of the Religious Society of Friends. We adhere to the guidance of the Simcoe Muskoka District Health Unit https://www.simcoemuskokahealth.org/HealthUnit/Workplaces/Businesses/recreationalcamps.aspx and other relevant Government of Ontario regulations.
Keep up to date with CoVID information in our Health District at this link.
Mission Statement
We are an intergenerational Quaker Camp. We bring people together to build an intentional community through work and play in a safe, inclusive, natural environment. We nurture the spiritual lives in our community through Quaker Testimonies including integrity, peace, simplicity, equality, justice, and unity with creation.
Vision Statement
NeeKauNis will be a welcoming, inclusive camp with creative programming that is engaging and reflects Quaker values. We will foster a vibrant community where we come together in an atmosphere of spiritual refreshment. We will be a sustainable camp, accessible to all who wish to come, in a natural setting with facilities that are clean, safe and environmentally sound. We offer programs for all ages with a focus on youth and families.
Frequently Asked Questions
Q: How do I get to Camp NeeKauNis?
A: NeeKauNis can be reached by car, bus, or airport shuttle. Its address is 40 Neekaunis Road, Waubaushene, ON, L0K 2C0. Here is a map.
By Car: NeeKauNis is 130km north of Toronto, Ontario, Canada. From Toronto, take Hwy 400 north and exit at Hwy 12 travelling west in the direction of Waubaushene. NeeKauNis Road is 1.5km west of the exit. From points East, take Hwy 401 to Hwy 400. If you want a more direct route from Ottawa or want to explore the smaller highways, use mapquest to help or contact neekaunis-clerk@quaker.ca.
By Bus: There is bus service from Toronto to Coldwater, a small town nearby to camp. For information, contact Ontario Northland. www.ontarionorthland.ca. Call your Director for pick up. Make sure you have Camp's contact number and any useful cell phone numbers.
By Airport Shuttle: The closest airport is Toronto Pearson. There is a shuttle run by Simcoe County Airport Service at www.simcoecountyairportservice.ca that serves the communities around Camp. Otherwise, take the Union-Pearson line to downtown for connections to the Ontario Northland bus.
Rides can sometimes be arranged through Directors. Please ask if you have any questions.
Q: Where do I sign up?
A: Register on-line or contact your Director through neekaunis-admin@quaker.ca. Go to our Registration tab and check it out! Our Camp Administrator can also provide you with email contacts or addresses. Adults do not have to provide health information unless they feel the need but are expected to have their medications and health cards on hand. We must have health card numbers and emergency contacts for children who are attending Camp without a parent or guardian.
Q: I feel sick, should I still come?
A: Campers with communicable diseases should not come to Camp. Please contact your Director if you have registered and are unable to attend.
Q: I or a member of my family is immunocompromised. Am I safe at Camp?
A: We cannot guarantee that immunocompromised people will not be at risk. Please use your best judgement if you decide to attend any Camp program. Children under 15 months are not fully vaccinated if the vaccination schedule for the Province of Ontario is being followed. It is possible, though, to rent Camp for personal programming as an alternative. NeeKauNis will help advise you in your planning if this is helpful.
Q: Can people with personal support needs come to Camp?
A: We value the participation of all individuals in Camp programs and know that caregivers often find the community at Camp to be supportive and enriching. However, as a volunteer run organization Camp NeeKauNis does not have the ability to care for those with personal support needs. Individuals who require assistance at home or in school must be accompanied by the appropriate support personnel when attending Camp. Paid support workers can attend Camp programs free of charge, but still need to register. If attending a Children's camp, the support worker will have to have a recent Vulnerable Sector Police Check.
Q: Do we need to send a deposit?
A: Yes, each registration form must be accompanied by a $100.00 non-refundable deposit. You may send your deposit or, even better, your full fees by email deposit to neekaunis-assistant-treasurer@quaker.ca. In the memo line of your transfer type "Fees and your Camp session". You may also send cheques payable to Camp NeeKauNis sent to your Director, or to 91a Fourth Ave, Ottawa, ON K1S 2L1. There is still a pay-on-site option.
Q: I may need bursary. What do I do?
A: Contact your Director to access our bursary program before you come to Camp. We encourage you to consider covering food costs to the order of $20/day. Young Friends from Eastern and Western Canada may apply with a minute of support for travel help from their Monthly Meeting or Worship Group. Other funds are also available through Canadian Yearly Meeting's Education and Outreach Funds on recommendation of the Committee. Please consider donating to Camp's funds so we can continue this ministry of support.
Q: Just how long do you hold on to personal information?
A: We hold information until it is no longer needed or to the end of the calendar year, and then it is destroyed. We will ask your permission to retain your address for Camp related communications like our Newsletters.
Q: Are there general Camp policies that I can read to my family?
A: Here are current policies.
Q: What should we bring?
A: Here is a list.
Q: How do we volunteer for Camp?
A: Look on the website for dates, download a form and mail it to your session Director. Make plans to have a Police Records Check (Vulnerable Sector) done if you are 18 and over. If you need us to sign a volunteer hours form, please make sure to bring it with you for signing or make arrangements to have it signed.
Q: Is there training for Staff?
A: Yes.Training is provided on-site before your program begins, through on-site guidance by experienced staff and at weekend training sessions. We will have a online training module on the website and a link will be given to you when you are accepted as staff.
Q: Are your lifeguards qualified?
A: Yes. Senior Guards are fully trained NLS lifeguards as required by regulation. Junior Guards have a minimum Bronze Medallion.
Q: Can you accommodate food allergies?
A: Yes. Please let your director know, but come prepared with your anaphalaxis or other necessary medications. If you are sending your child, you can let us know the details on the registration form or in a separate letter.
Q: May we have fires?
A: Yes. If Simcoe County has not issued a fire ban, fires will be part of the programming.
Q: May we bring our bicycles?
A: Only as a means of transport to and from Camp. We do not permit trail-riding or bicycles in the main camp area.
Q: May my dog come?
A: Service dogs are always welcome. Other dogs must be on leash at all times, well-controlled and remain in your cabin if you are not directly supervising them. Animals must have current vaccinations. No animal is permitted in the kitchen at any time. Dogs are not to be let free at Camp at any time. You must have consulted your director beforehand.
Q: May I have friends drop in?
A: Never during childrens' camps. At other times, Campers and Staff are strongly discouraged from this practice, but may ask the Camp Director for advice. All overnight guests must register and are expected to pay and to participate fully in programming.
More about Camp NeeKauNis
Camp NeeKauNis is a public residential camp that is owned by Canadian Yearly Meeting (CYM) of the Society of Friends (Quakers). It is located at 40 NeeKauNis Road, Waubaushene ON L0K 2C0.
Camp NeeKauNis is administered by the Camp NeeKauNis committee, a standing committee of CYM. Membership on the committee is restricted to Members and Attenders of the Monthly Meetings, through a nomination process, overseen by the CYM Nominating Committee. These nominated individuals form what is Friends' equivalent to a Board of Directors. We have a mandate given in Organization and Procedure of Canadian Yearly Meeting. Canadian Yearly Meeting is a registered charity and Camp NeeKauNis is part of that structure. Camp NeeKauNis is financially audited yearly as part of compliance with the CRA Charities Regulations.
Health and Safety Policies and Protocols
1. General Health and Safety
Camp NeeKauNis is subject to all applicable provincial and federal laws. We are specifically governed by ONTARIO REGULATION 503/17 RECREATIONAL CAMPS and ONTARIO REGULATION 493/17 FOOD PREMISES
We maintain our buildings, pathways and play areas; we are in compliance with fire regulations; we have a severe storm protocol; and remain current with health and safety issues related to wildlife, poisonous plants, and water-borne illnesses.
We are inspected annually by Simcoe County District Health Unit for compliance with Health Regulations; this inspection includes our kitchen, waterfront, fire safety, and water quality. We adhere to a strict schedule of water sampling. We carefully accommodate food allergies. We isolate hazardous materials. An approved Fire Safety plan is in place.
The Camp drinking water system is operated and monitored in accordance with Ontario Regulation 170/03. Annual Reports on the water system are prepared in accordance with Regulation 170/03, and are available at the Camp office or upon request. Here is a link to the most recent report.
Safety gear is supplied where needed to protect hearing, sight and to prevent other physical harm.
Camper Health and Safety
There are First-Aid certificate holders at Camp when we are running programs. We have an emergency call protocol posted by each telephone. We are close to a hospital and have 911 service. We keep reports of incidents. Our First Aid cabin, "The Swan" provides a clean, quiet place for campers and staff to be treated. "The Swan" acts as our infirmary should any one require a supervised bed to recover from minor ailments.
Child Protection
All staff at Camp programs where children and youth are present are required to present a Police Records Check for those working with Vulnerable Sector. Our staff to camper ratio is 1:5 or better.
We use policies developed by the Camp NeeKauNis committee and those policies that are applicable to Camp which are part of Canadian Yearly Meeting. Please look at our Statement on Bullying and Harassment and the Sending Home Policy at the bottom of this page.
Volunteer and Paid Staff Health and Safety
Although we are primarily a volunteer organization, we strive for a provincial standard workplace level of care guided by Ontario Labour Law, The Ontario Human Rights Acts and other related laws and statutes.
Volunteer Screening
Our volunteer staff is screened through staff application forms which are on the website. We ask for references and a Police Records Check (PRC). More information on the PRC is given in Camp NeeKauNis Requests Police Records Checks. Staff is trained on-site and through participation in weekend training sessions. The Camp website has all related documentation, forms, and protocols available to Directors. Some are in the public area of the website, and others that are for specific use by Directors are in a password protected area.
We do not accept volunteers who are younger than 15 years of age. Volunteers under the age of 18 are considered children and need a parent to sign all documents. Volunteers under the age of 18 are not required to have a vulnerable sector police records check.
Lifeguard Training and Support
We use only qualified lifeguards. Camp NeeKauNis follows the provincial regulations for a protected beach area. Our lifeguards are paid for their waterfront duties and assist in other areas of the program. Lifeguards receive on-site orientation and training given by former lifeguards and/or experienced Directors. They receive a detailed job description. They are provided with all necessary aids for waterfront safety. Our waterfront has access, by cellphone and walkie-talkie, to emergency services and to the Camp Directors. A First Aid kit and hydration supplies are available at the waterfront when it is staffed. Sun protection: sun screen and shade is available at those times also.
Privacy/Health Records/ Personnel Records
Privacy
Camp NeeKauNis follows CYM privacy policies as they pertain to Camp NeeKauNis. We do not collect names and contact information without explicit permission. We do not sell our lists. We use your information for Camp fundraising and Camp program news only and only with your permission.
We will ask for health information for your child when he or she is at a Camp session without you. However, we do not retain any health information after it is no longer needed for your child's protection. We do not retain any registration form after the end of the calendar year in which it was collected.
We will retain any incident reports for the prescribed time period. They will be held in a secure double-locked location. We will not ask for your health card. We will not ask for medical information for adult campers, but do ask that if you feel that you need to share a condition with the Directors or lifeguards, you do so in the knowledge that it will be held in confidence.
Violence in the Workplace.
We follow those parts of the CYM policy on Violence in the Workplace that are relevant to Camp NeeKauNis.
Camp has had a Sending Home Policy in place since 2004 which has recently been revised as an adjunct to the Bullying and Harassment Policy (see the bottom of this page for details).
Risk is reduced at Camp through:
volunteer screening and the request for PRCs.
control and restriction of casual visitation during our programs by processing all requests through the Camp Director responsible.
reporting protocol for incidents of abuse, drug and alcohol use, impairment, bullying and harassment documentation and retention of records.
mandatory police involvement for all incidences of sexual harassment and physical violence causing physical harm.
challenging strangers.
night patrols to midnight, as a minimum.
having a staff member with PRC overnight in cabins of junior and intermediate-aged children.
Conflicts and Complaints
If you have a concern, please first approach your Camp Director. The Camp Director may then contact a member of Camp Personnel and Recruitment and/ or the Clerk of the Camp NeeKauNis Committee for assistance.
If this is not appropriate for your concern, please contact the the Clerk of the Committee directly at neekaunis-clerk@quaker.ca
Camp NeeKauNis has protocol for dealing with issues, and we will also follow CYM protocols where they pertain.
CampTelephone/ Cell Phone and Electronics Use.
Camp NeeKauNis has a Cell phone and Electronics policy. We discourage the use of electronics, including cell phones, at Camp. Use by campers during children's camps is not permitted. Adults are requested to keep electronics in the cabin.
There are exceptions for Camp administration and for lifeguards.
The Camp telephone is for Camp business, but may be used for Camper and Staff needs use on request.